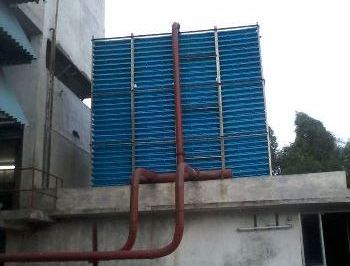 Our Cooling Towers are manufactured in best quality standard to meet internationally quality standard..
Oceanic Cooling Towers Manufacturers has been in the business of Cooling Towers from last 03 decades and built up noted reputation in the industry for our Quality execution & commitment to the service. The cooling tower is an essential device utilized as a part of numerous genuine applications in which water must be cooled down for industrial purpose. It is comparatively an inexpensive gadget for the cooling of re-circulating industrial water by means of evaporation process. Cooling towers are used to transfer the heat of re-circulating water into the atmospheric air. We also provide Spares & Servicing of other makes of all Cooling Towers.
We are very much concerned about the quality of our products and services provided to clients. To hold the best quality, we use specific materials in production of our equipment and accessories to achieve perfection in engineering. A Very Important note to consider that an untreated water running through cooling towers can leave behind scale and can cause corrosion, resulting in a loss of heat transfer and inefficiency in critical operating equipments. An appropriate water treatment system can help minimize scale deposits, resulting in reduced power consumption and extended cooling tower & Machinery life.
We implement in our manufacturing products that are as per current industrial standards and our technical professionals are continuously working for better technologies to enhance the performance and quality of our products. Therefore, our Products have an ever increasing demand owing to their outstanding performance, almost zero-faults or downtime.
Based in Delhi, the experience of our team put together gives us encourage to compete with the best industries, in terms of quality & services. We provide our services in every part of India.
Tags: Cooling Towers | Cooling Towers in India | Cooling Towers in Delhi | Cooling Towers in Delhi Ncr | Cooling Towers Suppliers | Cooling Towers Suppliers in India | Cooling Towers Suppliers in Delhi | Cooling Towers Suppliers in Delhi Ncr | Cooling Towers Manufacturers | Cooling Towers Manufacturers in India | Cooling Towers Manufacturers in Delhi | Cooling Towers Manufacturers in Delhi Ncr